What is Knowledge Hub Aichi?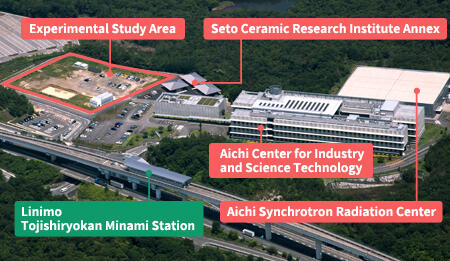 A center for creating and reporting on next-generation manufacturing technologies
Our goal is to create a center that offers a cutting-edge research and development environment based on the "Aichi Model" of industrial-academic-government collaboration. This environment will be a place to (1) develop research projects that use nanotechnology (the core of manufacturing innovations) to integrate IT and biotech, and (2) create technologies that lead to innovative manufacturing systems and high added-value products and materials.
Background
In the midst of a shortage of industrial leaders brought on by an increasingly global economy, fiercer international competition, a greater percentage of products manufactured overseas, and a dwindling and aging population, there are fears that Aichi Prefecture will suffer from a relative decline in industrial activity. Faced with these challenges, this area must produce ongoing innovations in the scientific technologies (or knowledge) that support manufacturing. This will ensure that Aichi can continue to lead the world as a hub of manufacturing, maintaining and further building upon its existing activity and momentum. In order to achieve this, it is critical that we link research outcomes from universities and other sources to manufacturing via some sort of bridge; in this case, joint research and development involving industrial, academic, and government bodies. We must then build the infrastructure--both physical and nonphysical--to make this bridge a reality.
Aichi Center for Industry and Science Technology (Leading core facility)
Opened in February 2012
Aichi Synchrotron Radiation Center
Opened in March 2013